Marina Lazebna, Minister of Social Policy of Ukraine, reported that as of today humanitarian aid has been sent to Ukraine from 18 countries of the world to meet the living needs of people forced to leave their place of residence, affected by military operations, as well as joining the territorial defense.
"The whole world is uniting to support Ukraine. 18 countries – this is the result that we have actually during the active work of the National Coordinating Humanitarian Staff under the Cabinet of Ministers of Ukraine.
We thank all the organizations from these countries who instantly respond and stand by us to support every Ukrainian in our struggle today and meet the basic necessities of life," commented Maryna Lazebnaya.
Countries that stand with Ukraine
Ukraine has already received shipments from organizations in Germany, China, France, Romania, Poland, and Latvia. Humanitarian cargoes from organizations from the Czech Republic, Switzerland, Romania, Turkey, Germany and Austria are on their way.
In the near future we expect to send humanitarian aid from organizations from Switzerland, Germany, France, the Czech Republic, Slovakia, Slovenia, Romania, Ireland, Sweden, Croatia, Lithuania, Finland and the Netherlands.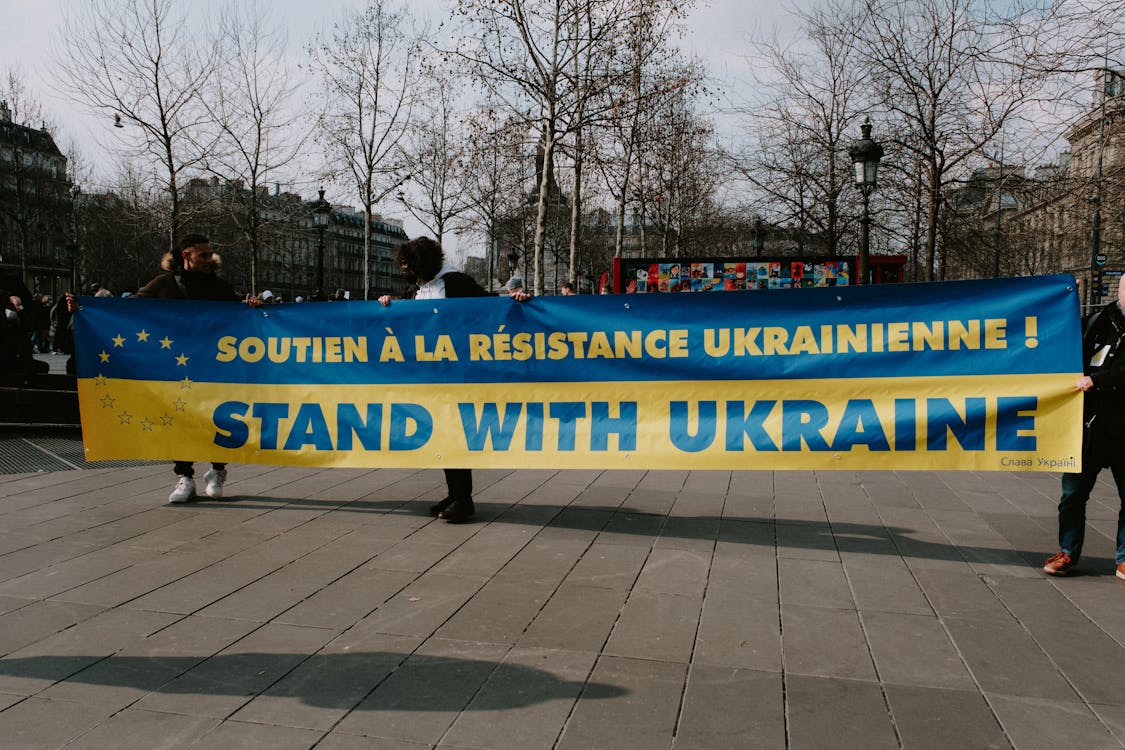 Pexels: Stand with Ukraine
The most delivered humanitarian goods
These are essential goods: medicines and dressing materials, blood products, medical equipment and means for the care of the wounded and sick, technical rehabilitation means, personal hygiene products, food, tents, sleeping bags, mattresses, dry latrines, disposable dishes, toys, clothes and shoes.
So only in the last few days humanitarian aid arrived to meet the priority needs of people in food, clothes, first aid supplies and others. Thus, more than 20 tons of humanitarian aid has arrived in Vladimir-Volynsky from Germany, 5 tons in Lviv, about 9 tons in Uman from China, more than 13 tons in Zaporozhye from France, 5 tons in Berdichev from Germany.
In the coming days, several thousand tons of goods necessary for territorial defense will also arrive in Ukraine: body armor, radios, helmets, tents, blankets, karemats, sleeping bags, blankets, dry toilets and rubber gloves.
Also European Civil Protection and Humanitarian Aid Operations of the European Commission, which includes assistance from 18 EU member states, deliver firefighting equipment, field camps for 250-300 people, modular equipment for hospitals.
"Supporting people is our second front, and we are grateful to all allies on this front," said Marina Lazebna.
About the Ministry of Social Policy
The Ministry of Social Policy is a specially authorized central body of executive power to guarantee equal rights and opportunities and to provide humanitarian aid. In its activities in this area it is guided by the Law of Ukraine "On Humanitarian Aid".
The Ministry of Social Policy recognizes cargoes, funds, including in foreign currency, performed works, rendered services as humanitarian aid; exercises control over transportation, receipt, storage, security, warehousing, distribution, targeted use, accounting of humanitarian aid, preparation of relevant statistical reports; within the powers stipulated by law, exercises control over activities of the Council of Ministers of the Autonomous Republic of Crimea, regional, Kyiv and Sevastopol city state ministries.
---
More details on the website: Ministry of Social Policy of Ukraine