Those who remain in Ukraine and are fighting for the freedom of their country send appeals asking for concrete support. In response, almost all of us want to help. How to translate these beautiful impulses of the heart into the best effects? ©Katarzyna Zwolak
Today Europe, and Poland in particular, is facing the greatest challenge to humanitarian aid since World War II. Since the escalation of the Russian invasion in Ukraine in February 2022, more than 1.95 million refugees, mostly Ukrainian women and children, have already arrived in our country, fleeing aggression and unimaginable suffering. Those who have remained in Ukraine and are fighting for the freedom of their country send appeals asking for concrete support. In response, almost all of us want to help. How to translate these beautiful impulses of the heart into the best effects?
Pexels: Protests against the war in Ukraine
"Ukraine, we stand with you"
As a Polish society, we pass the test in the current situation. Many individuals, companies and organizations are getting involved in various ways – by accepting refugees, often whole families, into their homes, providing transport, organizing collections of necessary items or donating money. We act in two ways: we help in Poland, but we also help directly in Ukraine.
And this is where important questions arise, which I often hear asked, sometimes loudly, sometimes shyly, as if in fear that it is not appropriate not to ask, because we should know. How to help wisely? What should we do to make our help as effective and adequate as possible? I think that there is no one right or unequivocal answer to such questions.
Based on my own experience – in 2017-2019 I coordinated humanitarian aid directly in Ukraine, working in the teams of Polish Humanitarian Action and arche noVa (now New Way) there; I spent 9 months in Kiev and over 1.5 years in Donbass – I would like to share my reflections on the aid provided on the ground, in Ukraine.
Effectiveness of systemic humanitarian aid in Ukraine
The assistance provided to the residents of Ukraine who have not left the country is absolutely necessary and a priority at the moment. According to preliminary UN estimates, the scale of needs will exceed $1.1 billion for the first three months from the start of hostilities. It is worth noting that aid on the ground can be very effective thanks to the system of humanitarian aid, existing in Ukraine since 2014, that is, since the events on the Maidan.
From the level of the international community, activities in Ukraine are coordinated by UN OCHA (United Nations Office for the Coordination of Humanitarian Affairs). The functioning of UN OCHA structures in the country affected by hostilities is crucial. The Office launches various UN agencies and initiatives depending on the needs, cooperates with national and local authorities and with international and local NGOs. Pexels: People giving humanitarian help
Local NGOs, although not always operating within such a structure, are a key element of the aid system, as they are the ones who have extraordinary leverage, stemming primarily from their excellent knowledge of the local context, and thus their ability to identify needs and reach out to those in need most quickly. The most important thing is that reasonable humanitarian aid always requires good coordination – from the UN, national central, local and self-government authorities, and NGOs – and in Ukraine we already have such a coordination system.
Starting broader initiatives on your own, outside the system, is an action that is better not taken. Sure, in the early days of the war in Ukraine, systemic aid needed time to adapt to new conditions, and exceptional social mobilization helped save the lives and health of many Ukrainian residents. However, in the long run, I believe that only systemic actions and coordination are effective and efficient. This applies to both the donation of funds and collections of items, as well as the dedication of time, energy, and effort of male and female volunteers.
Let a simple example illustrate this: the situation on the Polish-Ukrainian border. At some point we began to hear appeals from various organizations working directly there not to bring any more gifts and not to come. The spontaneous desire to help, the addition of more well-intentioned people, but unfamiliar with the realities and needs, could only deepen the chaos, cause more traffic jams, delays, growing frustration, etc. That's when a well thought out and very useful initiative of the Border Group appeared – a constantly updated online map of all Polish-Ukrainian border crossings and the assistance needed in terms of transport, gathering supplies or volunteer help and waiting times at the crossings on the Ukrainian side. It is this systematic approach that allows us to use the resources we have in the most efficient way.
Every penny makes a difference
I strongly advocate donating money to organizations working in Ukraine rather than direct in-kind help, unless it's a quick donation in response to very specific appeals of the organization. Firstly, organisations purchasing large amounts of goods in bulk have lower costs, receive discounts – which means that every zloty donated goes to more people in need, and it is more efficient and safer to organise a convoy of humanitarian aid – if necessary.
Secondly, needs can change dynamically. Organizations on the ground adapt very quickly to changing realities and purchase items depending on whether there is a need for medicine, food, clothing, blankets, shelter, or anything else. If an organization has more funds, they have more flexibility to effectively reach more people. Third, but also most important, the subjectivity of people affected by armed conflict.
People experiencing war dramas, facing death of their loved ones, loss of roof over their heads, hunger or cold, are the subject of humanitarian aid and it is necessary to precisely address their needs, and not to act according to one's own, often not necessarily accurate, ideas. This is the most important aspect of providing aid effectively; the organisations on the ground know better than we, who are involved from afar.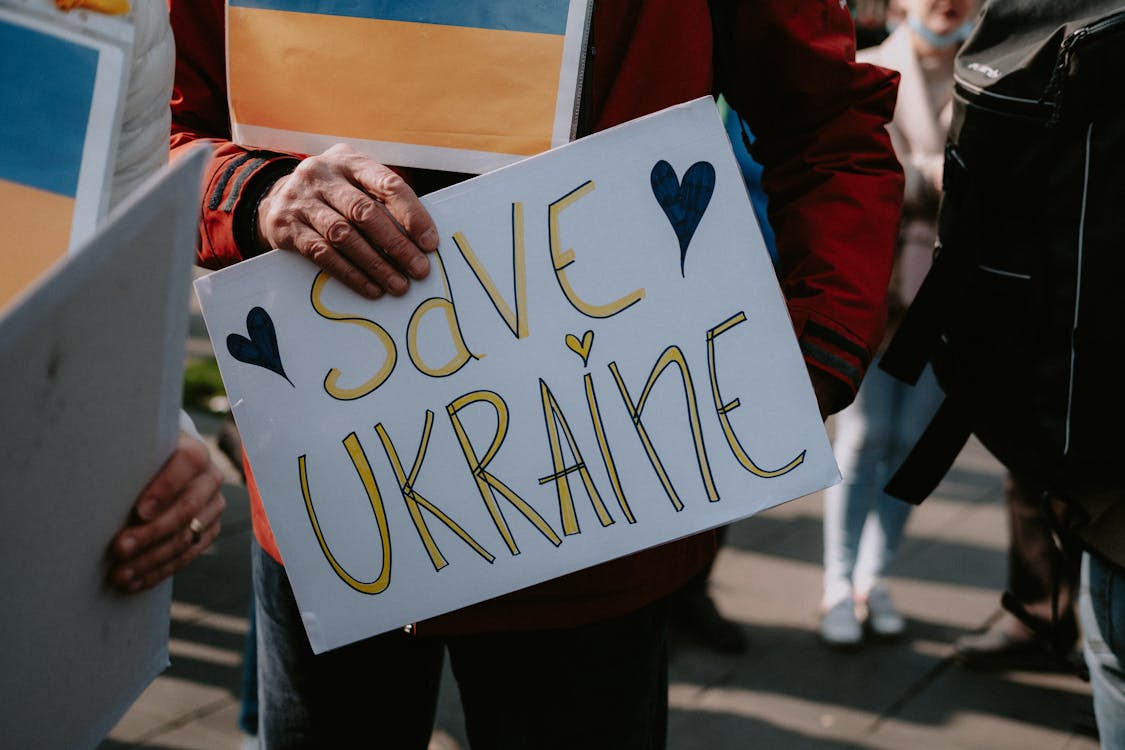 Pexels: Save Ukraine
I know that donors have concerns about money transfers. Will the money actually get to those in need? How does it work? What if the banking system stops working? There are many questions. Of course, in times of warfare, no one is 100 percent sure what will happen tomorrow. The banking situation at the moment is as stable as possible; I am in daily contact with my colleagues from Ukraine, who emphasize that for the time being there are no problems with access to transferred funds. Thanks to transfers from Poland, among other countries, they can take care of needs which appear and change every day.
The second concern is whether the organizations will stay in place. I would like to say emphatically: yes! Humanitarian organizations, in the face of warfare, do not leave the country and do not close their activities. On the contrary! Of course, many of them have changed their headquarters, relocated their coordination centers to safer places or adapted their security systems – adapted their activities to the current situation.
However, the organizations are still there and provide help in Ukraine. It is all the more important to support them now, in these very difficult times, so that they can continue to help those in need in accordance with their competencies, knowledge, experience, and also with their commitment.
Katarzyna Zwolak, manager, former humanitarian worker, currently Managing Director of WiseEurope. Graduate of cultural studies at Jagiellonian University and University of Geneva. She worked for Polish Humanitarian Action, Women's Congress, British Embassy and led humanitarian missions in Donbass and on the Lebanese-Syrian border. She is a founder of Home Book Club, a cyclist and a lover of solitary mountain hiking. She lives in Warsaw with her Lebanese cat Szu.
Source: WiseEurope - Warsaw Institute for Economic and European Studies Foundation/
---
For a more detailed information visit the website: publicystyka.ngo.pl